Cheeky Lesbians Steal Roommates Toy For Ass Play Jessica Ryan Jane Wilde Vanessa Vega
Jane Wilde and Vanessa Vega are having some quality anal time with their fav toy, a double-ended dildo. They're so caught up in their ass-to-ass extravaganza when suddenly, the dildo slips out and breaks in two! After the shock wears off, the ladies cook up a plan to steal Jane's roommate's toy. The ladies sneak into her room for some fun. When Jane's roommate, Jessica Ryan, comes home tired and ready to masturbate, Jane and Vanessa quickly hide and try to crawl out of the room with the dildo hidden. Jane doesn't get far before she is caught, with a full ass. Jane and Vanessa pull off an anal switcheroo that mystifies Jessica long enough to get her out of the room and continue their girl-on-girl play until both their butts are satisfied.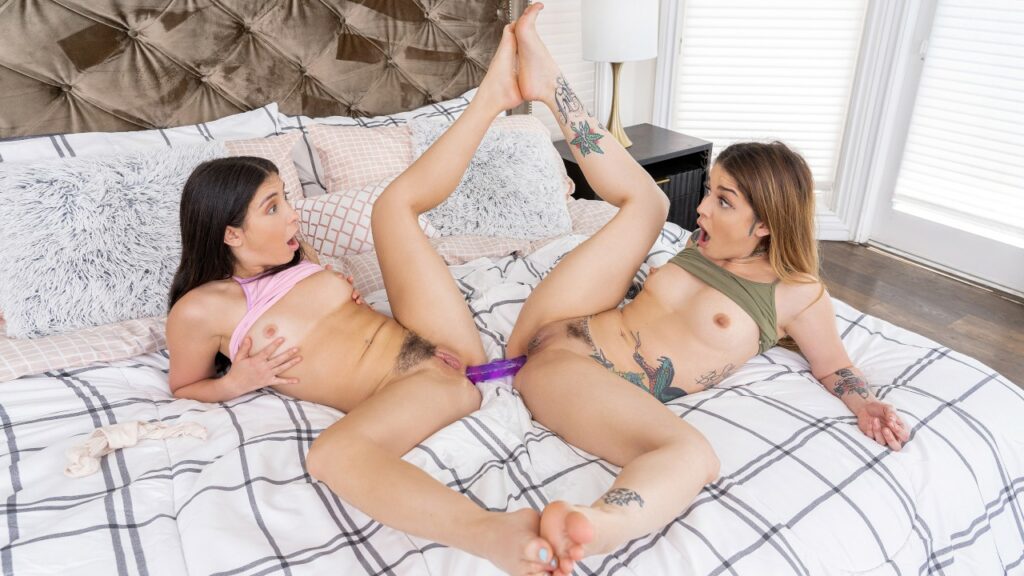 Jessica Ryan sums herself up nicely when she says, "Whoever said nerds can't be sexy?" No one who's looked at Jessica's perfect body could ever argue otherwise. This is one porn star with serious sex appeal. She has an all-natural rack, and a curvy butt that's just begging to have a dick shoved in it. When she isn't busy filming hot fuck scenes on camera, she indulges in her love of comic books, diving into issues of her favorite: Marvel's Deadpool. If you visit Comic Cons in LA, you might run into Jessica all dressed up, chatting with artists and browsing for prints to buy. Her other big-time indulgence is getting pampered at the salon, whether she's going for a full-on mani-pedi or relaxing with a deep-tissue massage.
Just a single glance at gorgeous blonde spinner Jane Wilde is enough to understand how she once made a guy cum in ten seconds. A bisexual anal princess from New York City, Jane started getting "Wilde" in the adult industry right after turning 18. Her small frame, perky tits, and tight ass are perfect for being thrown around, and nothing gets Jane wetter than rough sex and dirty talk. Off-camera, Jane is a homebody who spends her time searching out dudes with Big Dick Energy and writing porn scripts of her very own. If her alluring performances on set are any indication, make sure you check back on Jane Wilde very often, because once she gets to realize her creative vision, the entire porn world will be taking a ride on the Wilde side!
Your 'local slutty hippy' Vanessa Vega is a tatted up alt-girl brunette with piercings and perky tits. A total nympho, the Los Angeles native Vanessa has very few limits when it comes to sex and loves to squirt, get fucked in the ass, and swallow thick loads! When she isn't enjoying hard dick on set, Vanessa likes to try new restaurants, meet new people, and travel. Check out Vanessa Vega in the scenes below!
Date: August 28, 2023