Prankster Gets a Pussy Sandwich Daya Knight Dee Williams Jimmy Michaels
Jimmy Michaels is the quintessential perv, running through the public streets and stealing clothing right off women's bodies! Adorable Daya Knight is his next unsuspecting target. Jimmy spies on her before stealing her top and running away with it. Daya's gorgeous natural tits get a breath of fresh air as she runs after the thief. Jimmy takes shelter in a private backyard, where he stumbles upon curvy Dee Williams lounging by the pool. Dee and Jimmy get into some sneaky sex before Jimmy has to hide from Dee's husband! Jimmy doesn't know it yet but waiting inside for him is a very vexed Daya – Dee's new stepdaughter!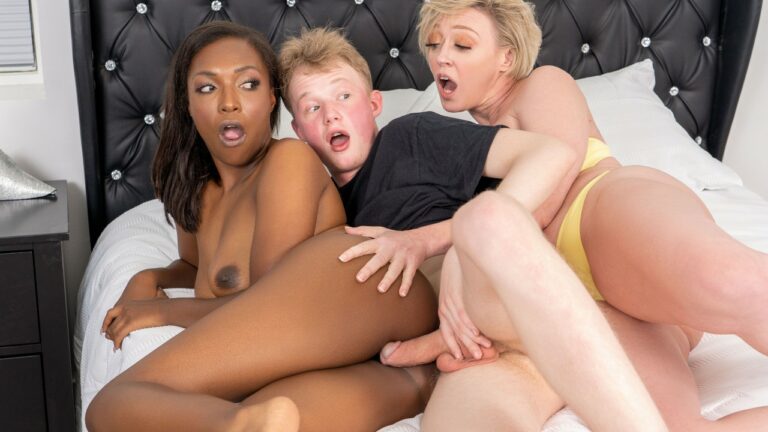 Jimmy Michaels claims he can learn anything, and if you ask his partners, they'll tell you how quickly he attunes to their wants, needs, and pleasures! When he isn't pleasing pussies on set, Jimmy is working towards becoming a super genius. Consuming knowledge with the voracious appetite of a virgin standing in front of his first super model, Jimmy's mental acumen has led him to become one of the top pornstars in the world. It's every nerd's fantasy to land the hottie, and these days, Jimmy not only lands them, he lays them too! When he isn't impressing beautiful women with his big brain, Jimmy likes to play football, video games, and spend time with friends and family. This Chapel Hill native loves to fix things and make people smile, and you can tell from the scenes below that his co-stars adore him!
When she's not shopping for shoes, hanging with friends, or looking for her next hot lover, California sweetheart Daya Knight is spreading her tight pussy for your eager eyes. Busty, fresh-faced, and ready to please, this cutie is always down to learn some new tricks. Whether she's giving a master class in sucking dick or taking lessons in pussy eating, she always savors every sweet, sloppy lick. This girl-next-door is so soft-spoken and lovely, you'll have trouble believing she's down to fuck, but once you've experienced her unbridled enthusiasm for a stiff cock, you won't question her dedication. Her big natural tits, juicy ass, and bedroom eyes have fans buzzing with anticipation about what she'll try next. Check out this teen darling and her slow, wet rise to fame right here if you're ready to witness the next big thing.
Kinky Texan MILF Dee Williams loves getting whipped, bound, choked, and keeps coming back for more. Going by her alias "Darling," you wouldn't suspect this pixie-haired hottie with a sexy Southern accent to be the BDSM legend that she is! Yet, she's most at home in a skin-tight latex suit, tied up, ready for whatever her dom has in store for her. Rocking a set of big, fake 34DDD tits and a juicy ass, her submissive nature always lands her on the receiving end of a huge dick or a thick strap-on. Getting tied up is all part of a leisurely afternoon for Darling Dee and her insanely hot tatted-up body. Being skilled in jiu-jitsu and wrestling means this curvy babe can dish out a rough fucking just as much as she loves to take it – which makes her sexual submission all the hotter. Get ready for a world of fetish fun with the irresistibly juicy Dee "Darling" Williams.
Date: August 28, 2023