The Mating Game Part 1 Cherie Deville Luna Star Ana Foxxx
Pornez Welcome to Part 1 of Brazzers' pornstar dating show, The Mating Game! We have the lovely Luna Star choosing between three sexy mystery contestants: Ana Foxxx, Cherie Deville, and Ebony Mystique. The babes do their best (or worst?) to convince Luna that their precious pussies deserve her affection and fornication! Luna starts things off with some easy personality questions to see if the vibe is right, before moving on to tricky and pervy topics to really find her match. But it seems like some of the contestants are more focused on each other than Luna… Maybe it's time for this game show to get Hot And Mean to figure out a true winner, leading to a wild, leg-spreading, pussy licking, hardcore scissoring lesbian threesome! Ebony might be left sitting on the sidelines in Part 1, but stay tuned for what's to come in Part 2! xxx69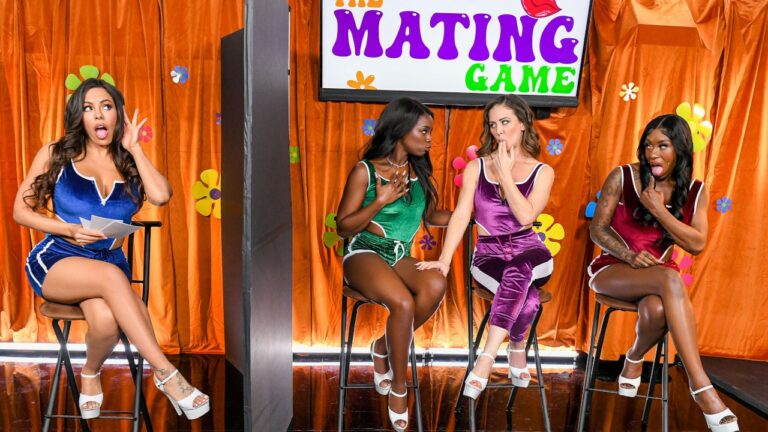 When runway model Ana Foxx decided to become a porn star, she says her only goal was to learn to give a great blowjob. Ana has definitely surpassed that target, as well as every other objective she's set for herself along the way! It's hard to believe it now, but this tall and stunning beauty was shy and not that sexually experienced when she started out in the adult industry. Not only did cumming on camera help Ana to come out of her shell, she also began to discover and explore her kinks, like bondage, domination, and rough sex. But Ana says her biggest fetish has to be pleasing her guy. "I like anything that turns a man on, and when he actually moans it sends a shiver through my body that I absolutely love." With her athletic body, supermodel face, and dynamic fucking style, the enthusiastic Ana is always making men moan wherever she goes! This stunning California girl has come a long way from shy ingenue to award-winning porn princess, so be sure to watch her progress in the videos below!
Cherie Deville is a busty, blonde beauty from North Carolina who loves to show off her amazing body and make men drool. Call her a tease if you like, but if you had long, slender legs, big tits, and an ass so firm you could bounce quarters off it, you probably would too! Cherie made her adult industry debut back in 2001, mostly working as a model and starring in girl-on-girl scenes. Soon enough, Cherie took her talents to hardcore scenes and got to taste the top dick of the industry! A former cheerleader, lifeguard, and ballerina, this buxom babe is like a walking fantasy come to life. Make sure to check out Cherie Deville in the scenes below!
Luna Star is a big booty beauty who believes she was "born to do porn." Leaving Cuba behind for Miami, Luna hit the books and got herself a college degree. But as fate would have it, she was destined for bigger and harder things: in 2012, Luna popped her porn cherry and never looked back. Despite her petite frame, she loves dominating, taking charge of every big-dicked dude that comes her way. Whether it's a stiff dick up her bubble butt or diving head first into a wet pussy, Luna's luscious ass is up for it. When this curvy beauty isn't on set, she's putting those thick legs of hers to work on hiking trails, boxing up a storm, and listening to smooth jazz. Saying she wants to be "the best porn star ever" means you can expect way more of Luna Star's enthusiastic fuck sessions right here in the videos below.
What form would you like Ebony Mystique to take today? How about "Fuck Fantasy?" This triple-stacked goddess is like a freak of nature, because her massive titties and thick thighs are a sign that humans have reached the next evolutionary stage of sexiness! A free spirit, Mystique loves to live her best life, whether that's shaking her ass on social media, traveling the world, or going out to party with her closest teammates. With dark raven-colored hair, sultry features, and the kind of filthy mind that will propel her to the top of the smut biz, you won't want to miss a single scene featuring the Goddess Ebony Mystique the Freak!
Date: August 28, 2023